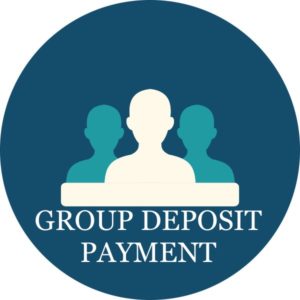 August 19 to September 12, 2019
GROUP PAYMENT GUIDELINES
Step 1: PAYMENT
– Registration Fee payment is thru any Bank of the Philippines Islands (BPI) branch/ BPI Online transfer
Account Name: Ultrasound Society of the Philippines, Inc.
Account Number: 0120-1269-11
– Please click here for REGISTRATION RATES and PAYMENT GUIDELINES
NOTE: Bank payments will not be acknowledged until ONLINE REGISTRATION has been completed.
Step 2: GROUP DEPOSIT SLIP VALIDATION
*Prior to accomplishing VALIDATION FORM please prepare a Digital copy/picture of BANK DEPOSIT SLIP/ BPI ONLINE TRANSFER TRANSACTION (digital copy/picture must not exceed 5MB)
– A GROUP REPRESENTATIVE must initially accomplish the Validation Form
Click here to start GROUP DEPOSIT SLIP VALIDATION.
STEP 3: RECEIVE JAC e-voucher
– JAC e-voucher for EACH DELEGATE INCLUDED IN THE GROUP will be sent to the GROUP REPRESENTATIVE via email. These will serve as PROOF OF PAYMENT and MUST BE DISTRIBUTED TO EACH DELEGATE.
STEP 4: INDIVIDUAL ONLINE REGISTRATION
– EACH DELEGATE must  REGISTER INDIVIDUALLY  using the JAC e-voucher to complete the online registration. Click link below.
– Please submit digital copy/picture of the respective requirement:
(digital copy/picture must not exceed 5MB)
(1) CT-MRISP and USP Inductees: completely filled up CONFORME LETTER (click to download Conforme Letter Form)
(2) Radiology Residents and Fellows-in-training: completely filled up LETTER OF VERIFICATION (click to download Letter of Verification Form)
(3) Radiologic Technologists, Allied Professionals and Students: valid Employment, PRC or Student ID
**Please ensure that your Internet Connection is stable prior to submitting your registration (minimun upload speed: 0.5mbps) . Click submit button once, processing may take a few seconds or a minute. Thank you.
NOTE: Strictly no refund, no change of name nor transfer of registration will be accepted. Please REGISTER correctly.
ALL SUBMITTED DATA WILL BE KEPT CONFIDENTIAL AND SECURE. THANK YOU.